Private Math Tutoring in San Francisco
Since 1992, I have had the pleasure of working with hundreds of students at all levels of math and coaching them on increasing their success in school and improving their performance on standardized tests.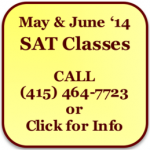 No student has the same strengths, shortcomings, confidences, or fears. One on one sessions that offer personalized attention  will inevitably be the most productive.
I help students manage their time, prepare for tests with more efficiency, improve their skills quickly and build their confidence. I provide one on one tutoring at my office, via Skype or at your home. See why SFTutors offers the best investment for your education. Rates  48-Hour Cancellation Policy
Subjects
Arithmetic, Algebra, Algebra II, Trigonometry, Geometry, Pre-Calculus, APCalculus, APStatistics.
SAT, SAT Subject, ACT, SSAT, ISEE, HSPT, GRE, and GMAT.